It's time for creative professionals to stop using gaming laptops in their workflow
ASUS took their best ROG gaming laptop, reduced the footprint, added a tilting keyboard with WRGB, a wheel for quick shortcuts and precise actions, and paired it with one of their best gaming technologies. display and the Asus Zenbook 16X (UX7602) was born. We had the opportunity to test the UX7602, and here is our report.
Design
While we love ROG laptops for their unapologetic gaming aesthetics, and we also use a few of them for our workflow, gaming laptops are gaming laptops at the end. Although they offer enough power for heavy workloads, like streaming and rendering 4K/8K files, there are tradeoffs, like display, fan noise, overall size, and weight. With the Zenbook Pro 16 OLED (UX7602), ASUS has taken all the best things from its ROG lineup and added more things relevant to creators delivering an unparalleled experience.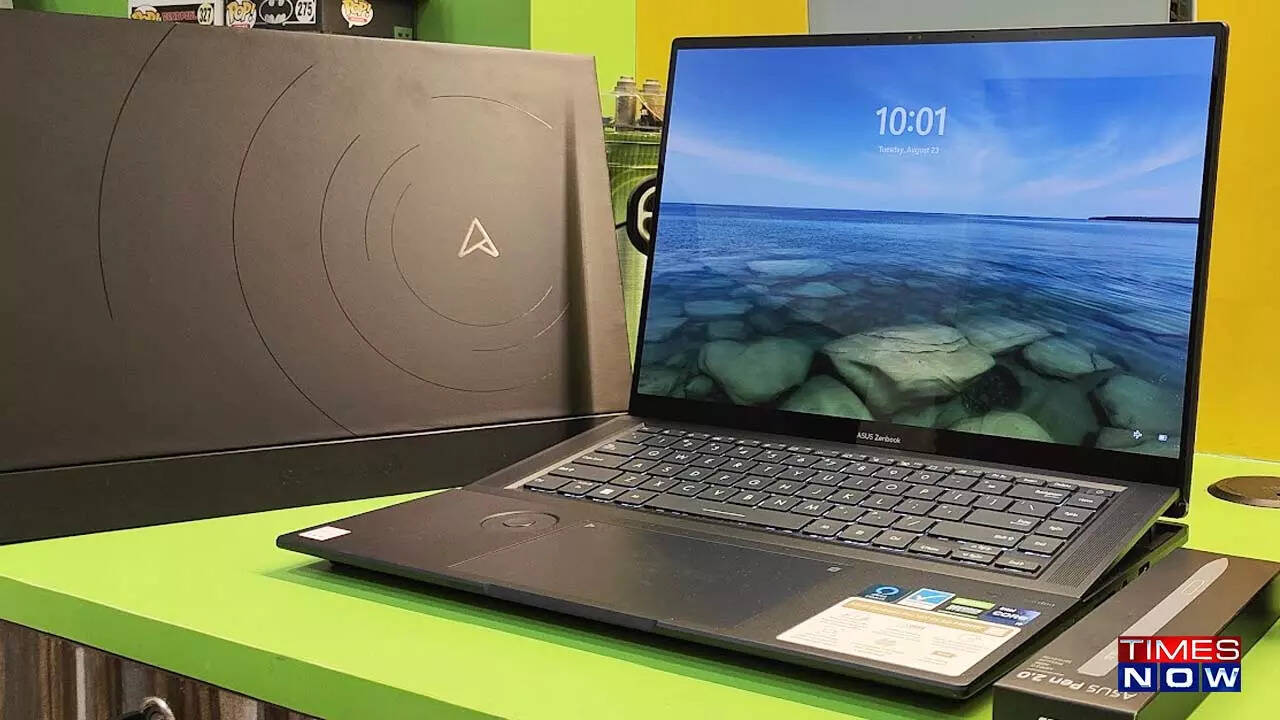 First, the design, it's sleek and slim and immediately gives off a useful vibe. This laptop means business and you can feel it from the design. The entire chassis of the UX7602 is made of CNC machined aluminum alloy, which gives the device a premium feel alongside the durability factor. But that's only from the outside, once you open the lid of the UX7602 you're greeted by a keyboard that tilts upwards, ASUS calls the mechanism AAS Ultra which stands for Active Aerodynamic System Ultra. This raises the keyboard and opens the back 7 degrees, creating a 14.5mm air intake, improving airflow and thermal performance. Interestingly, that tilting keyboard isn't fancy, from a design standpoint the UX7602 has two front speakers that are directly over the keyboard and the speakers tilt while enhancing the experience overall sound.
Related News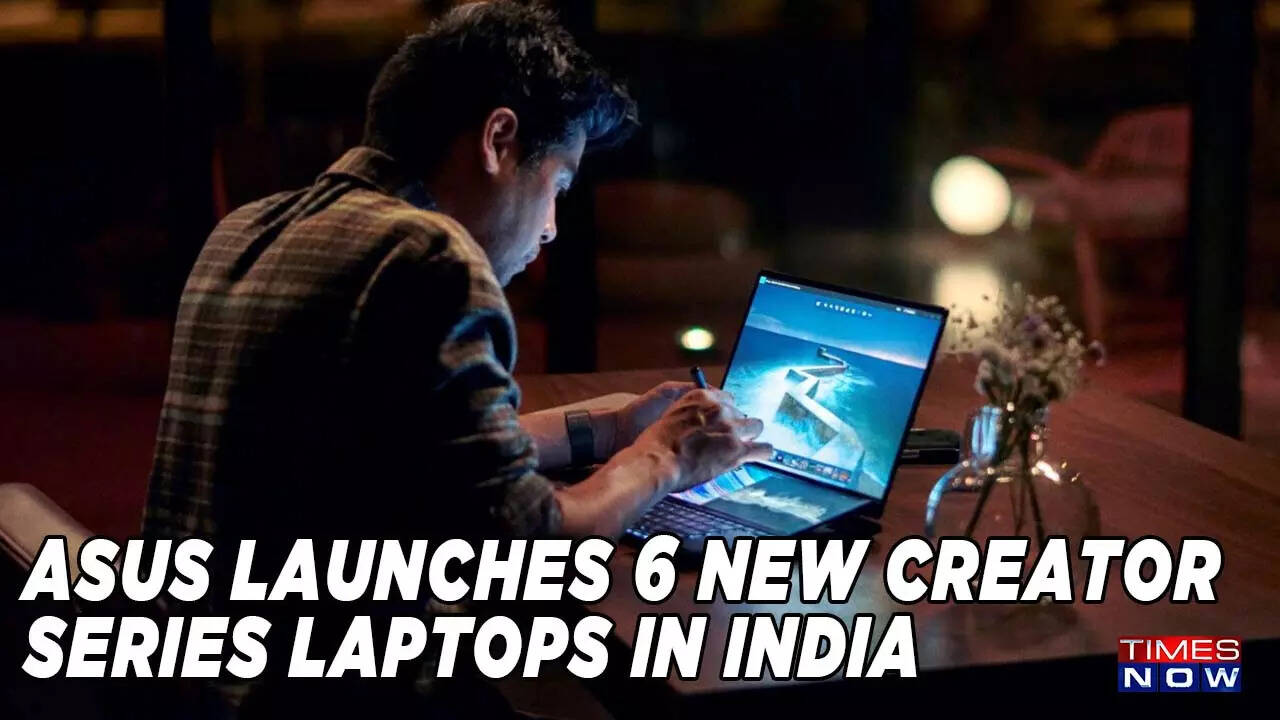 ASUS expands its Creator Series portfolio in India with 6 new laptops featuring dual screens, jog wheels, tilting keyboards and more; Details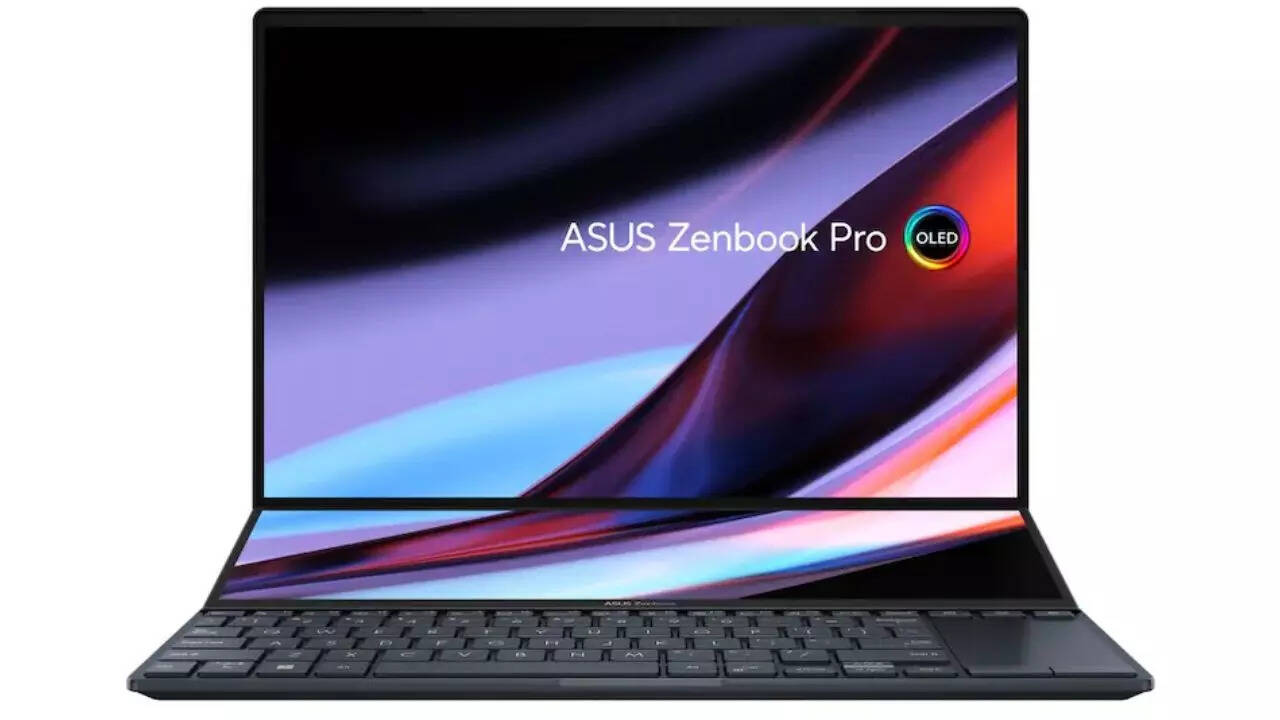 Asus Zenbook, Vivobook, ProArt Studiobook Laptops Powered by 12th Gen Intel Chipset Launched in India: Price, Specs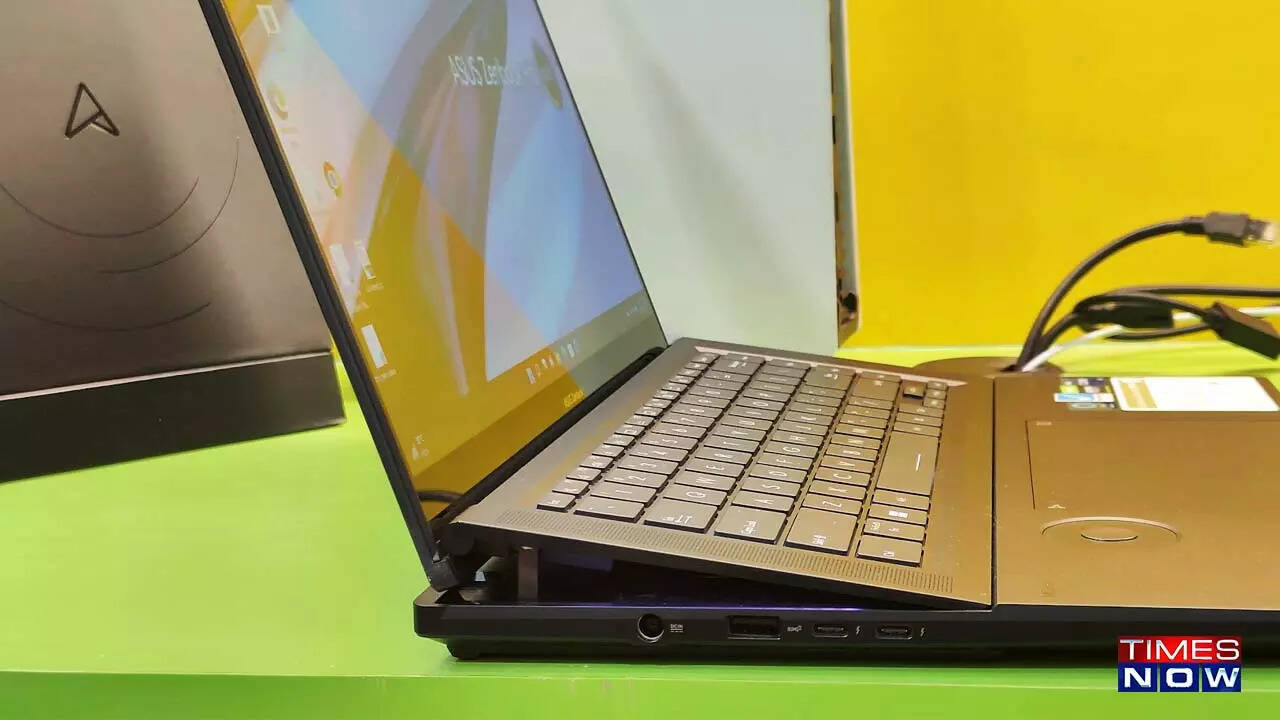 To learn more about this tilting keyboard design, we spoke to Hardik Singh, Technical Product Manager for ASUS India, about the durability of the keyboard and the dust issues that will eventually creep in. Hardik assured us that the keyboard is sturdy enough to even lift the laptop and the internals are sealed against dust. The UX7602 with its aluminum chassis and 16-inch screen weighs 2.4 kg and is 16.9 mm thick and the machine is US MIL-STD 810H certified for durability.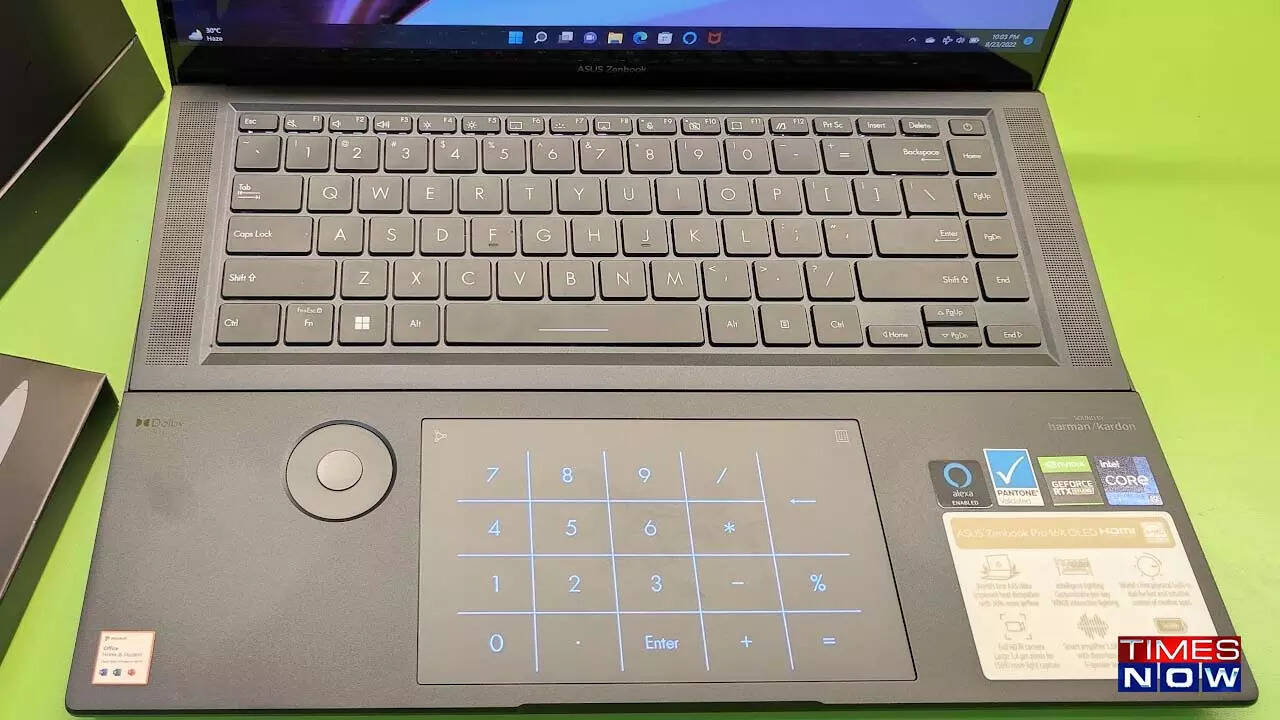 Moving on, the UX7602 gets a large 150 x 90mm trackpad thanks to the larger footprint of the device, the glass trackpad can also display the number pad if needed, but the UX7602 has another trick of party, and it's the wheel to the left of the trackpad.
This wheel called the ASUS wheel is quite unique and is seen on professional video editing controllers. Fully customizable, this wheel can speed up your creative workflow. ASUS has collaborated with Adobe for the use of this watch face in Adobe's Creative Suite. We've tried using the dial with Photoshop and Premiere and it's made our lives a lot easier with the shortcuts and precise movements it offers. If you don't carry a mouse, the UX7602 with the jog wheel can still make it easier and faster to move through layers, edits, color correction, or anything else in the Adobe suite. We found the jog wheel placement to be very intuitive, the left hand reaches for the wheel naturally and the overall workflow becomes much quicker.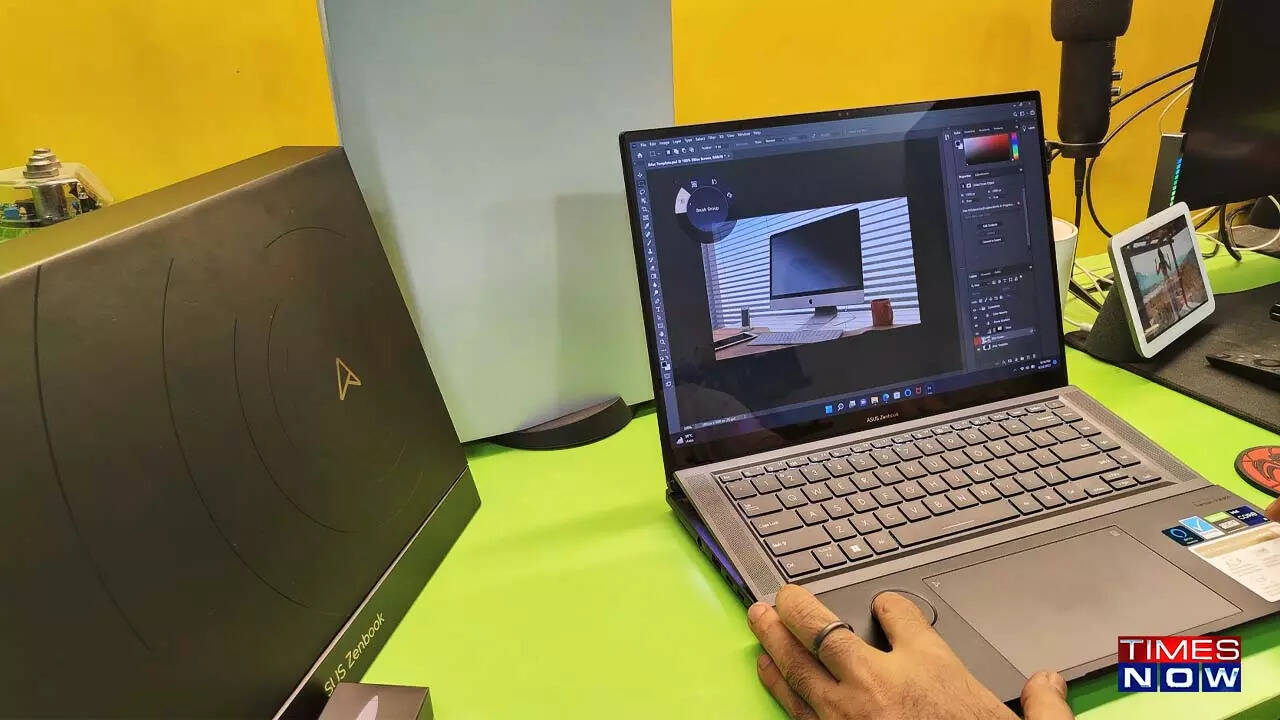 And finally, like tattoos poking out of a professional's collar or cuff, giving a glimpse of the alternative lifestyle outside of the office, the UX7602 traces its ROG heritage with per-key W-RGB lighting as well. a light bar on each side of the keyboard that lights up when the keyboard is lifted. If you don't want the RGB lights, it has independent white LEDs that make it suitable for the studio or work environment. Oh! the back logo also shines in WRGB and is fully customizable as well. And these lights can also be turned off, for an all-black look.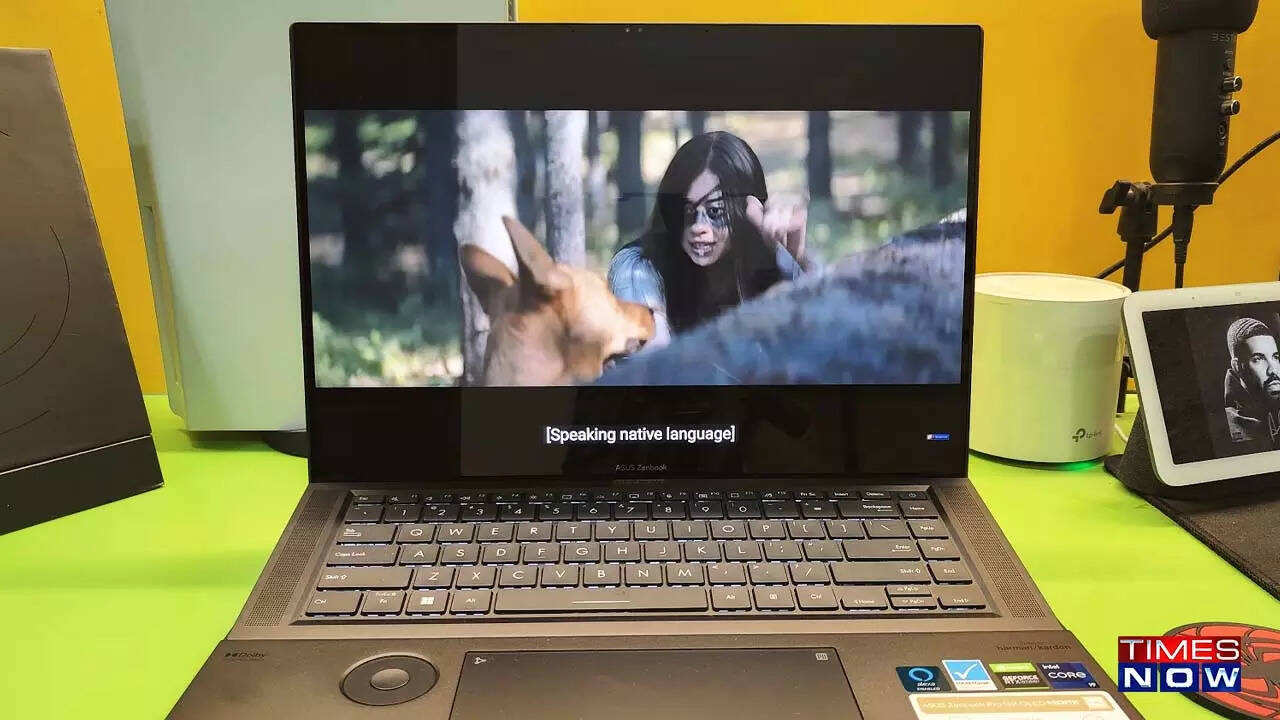 Display
Besides powerful and reliable hardware, when it comes to creative work, it's the display quality that matters most. Colors need to be absolutely accurate for professional work, and ASUS has done a great job with the UX7602's display. First, it's an OLED panel, which means it's bright and has great contrast and color ratio, then the 16-inch 4K panel is also touch-sensitive and ASUS provides a pen in the box.
The display panel supports 100% DCI-P3 color space, its Pantone validation as well as VESA DisplayHDR True Black 500 and Dolby Vision certification. The panel also offers 550 nits of brightness and 0.2ms of response time. The display is amazing, the thin bezels and the 16:10 aspect make working on the device a pleasant experience. For professionals working in editing, filmmaking, photographers and more, the UX7602's display delivers accurate colors and ample brightness that keep onscreen content visible even in direct sunlight. We tried editing videos and photos incorporating the UX7602 into our workflow and the display immediately stood out compared to our other devices. Images shot on a Canon DSLR were represented exactly as seen by the camera.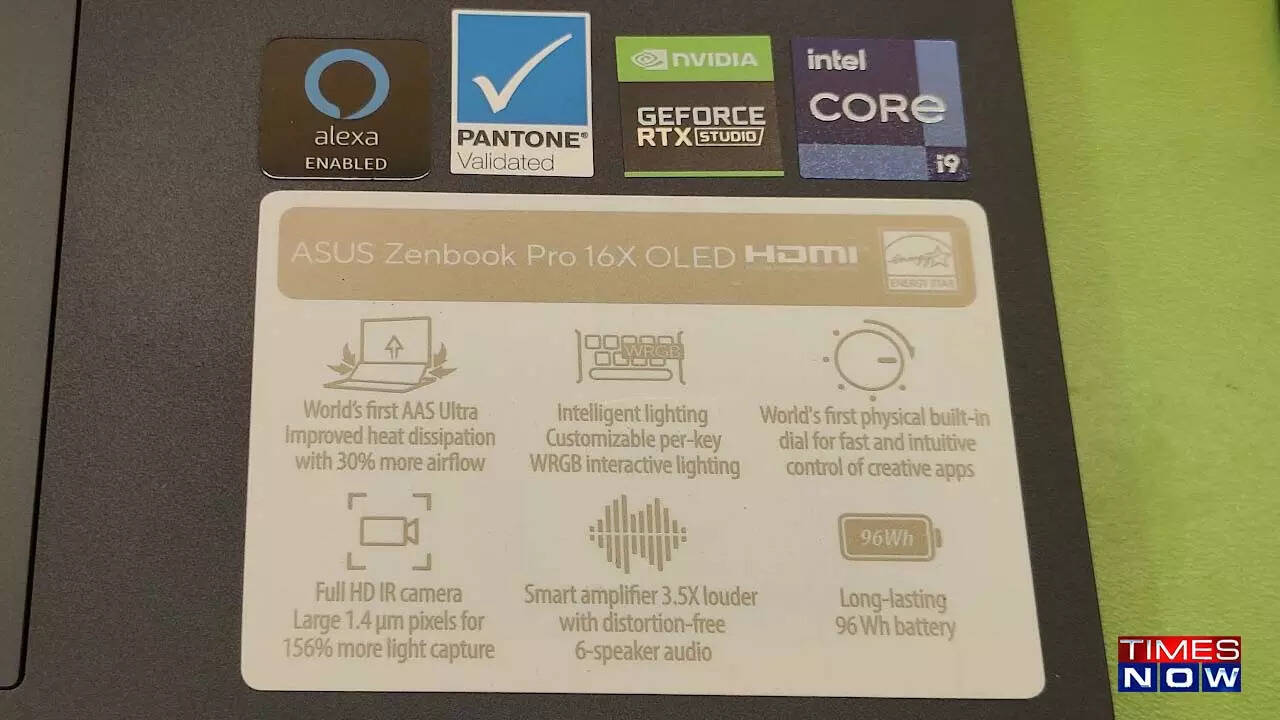 Performance
The ASUS Zenbook Pro 16X OLED (UX7602) comes with Intel's 12th Gen H-series processors, these gaming-grade processors offer up to 14 cores and 5GHz clock speed with the 12900H. In terms of GPUs, NVIDIA's RTX 3060 with 6GB of LPDDR6 VRAM is available. Storage and RAM options include 1TB PCIe Gen4 X4 performance SSD with speeds of 6.5GB/s and 32GB LPDDR5 (5200MHz) RAM. As mentioned above, we tried using the UX7602 in our workflow and the device blew it all away, the ergonomics with the wheel is one thing, but the performance was great too. Editing 4K video, with a full resolution preview in Adobe Premiere, was a stutter-free experience, which is great. Even games were good with performance comparable to 3060 gaming laptops, display quality was much better than gaming laptops.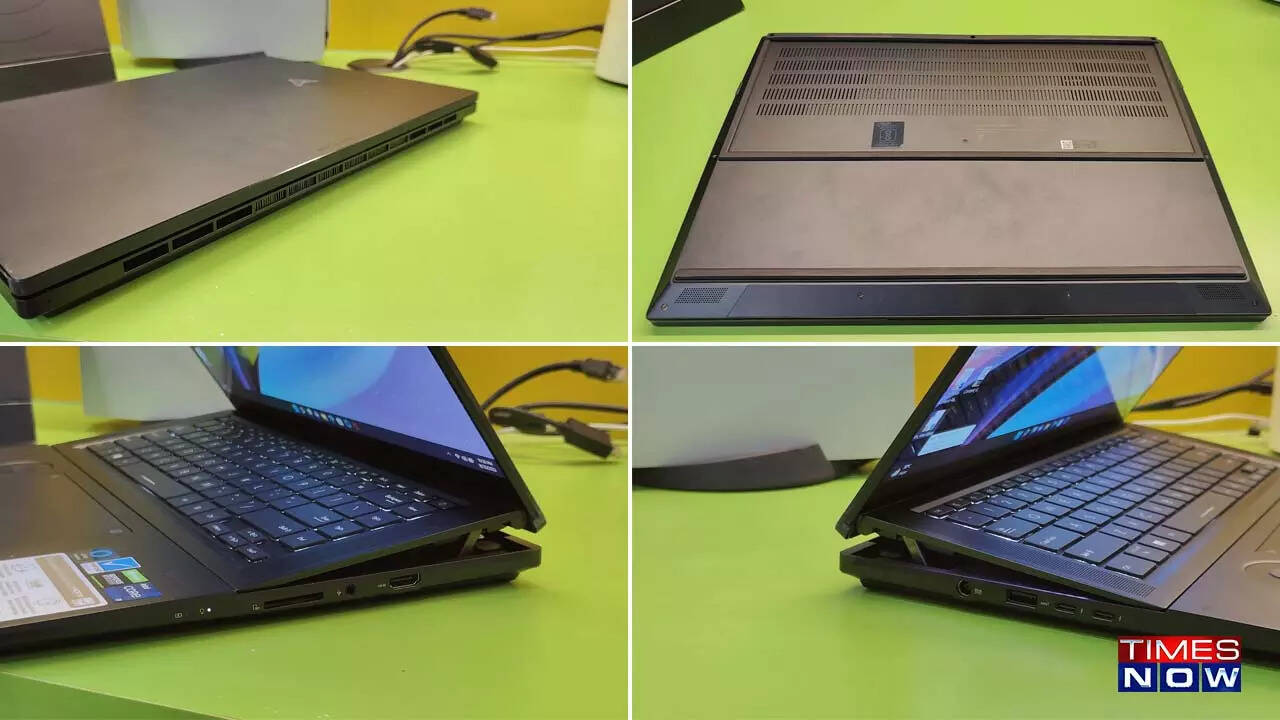 Thermals
Although the UX7602 has a sizable footprint with the 16-inch display panel, it's thin and with powerful internals, we were interested in observing how it will handle the heat. Especially with the tilting keyboard creating an air vent just above the CPU. Now, ASUS has informed us about IceCool Pro thermal technology which is 3D vapor chamber, efficient 12v fans with 97 blades, etc. In real life, the biggest difference you'll notice is on the keyboard, it barely heats up. The device also has vents on the back, bottom, and sides for airflow, which keeps the device well-ventilated. Another noticeable thing was that the fans were less audible on UX7602 than compared to its gaming counterparts.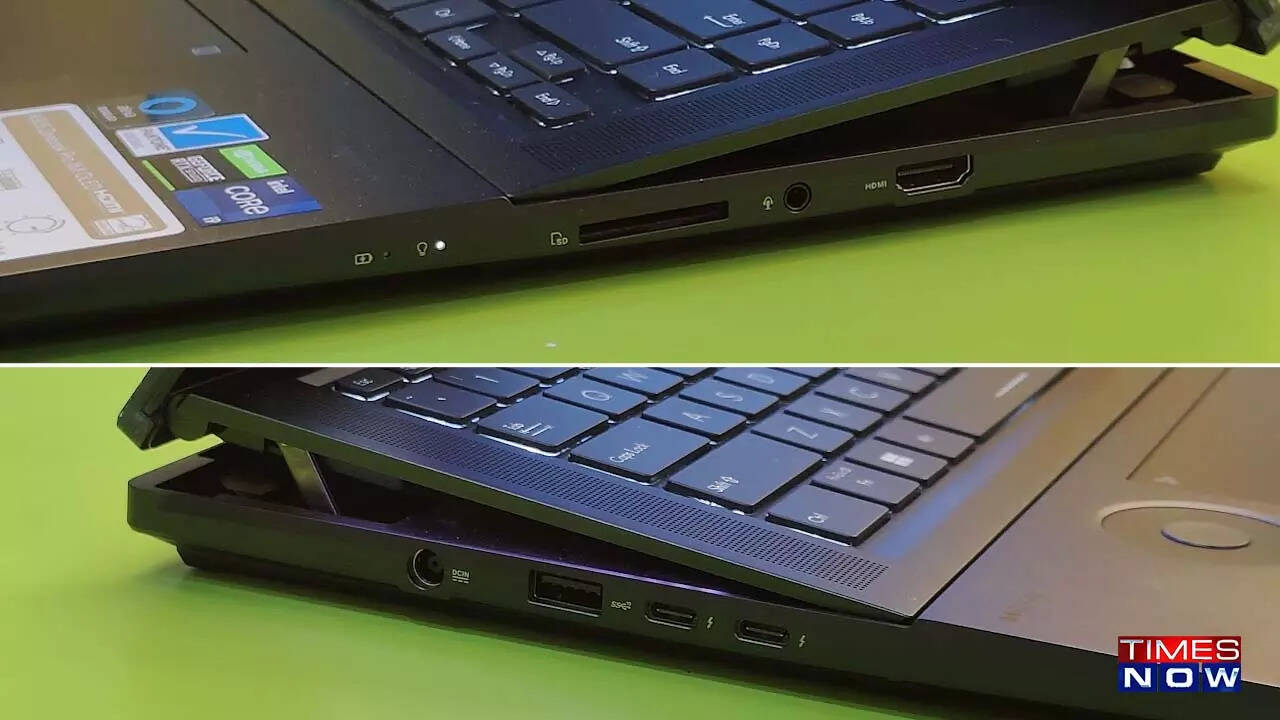 I/O Ports
The UX7602 comes with two Thunderbolt 4 ports that support data, display, and charging, an HDMI 2.1 port, a USB 3.2 Gen2 Type-A port, and a 3.5mm audio port. Since this device is aimed at creators, there is also an SD express 7.0 card reader for super-fast data transfer from a DSLR or any other type of camera or other devices. For wireless networking, Wi-Fi 6e and Bluetooth 5.2 are offered.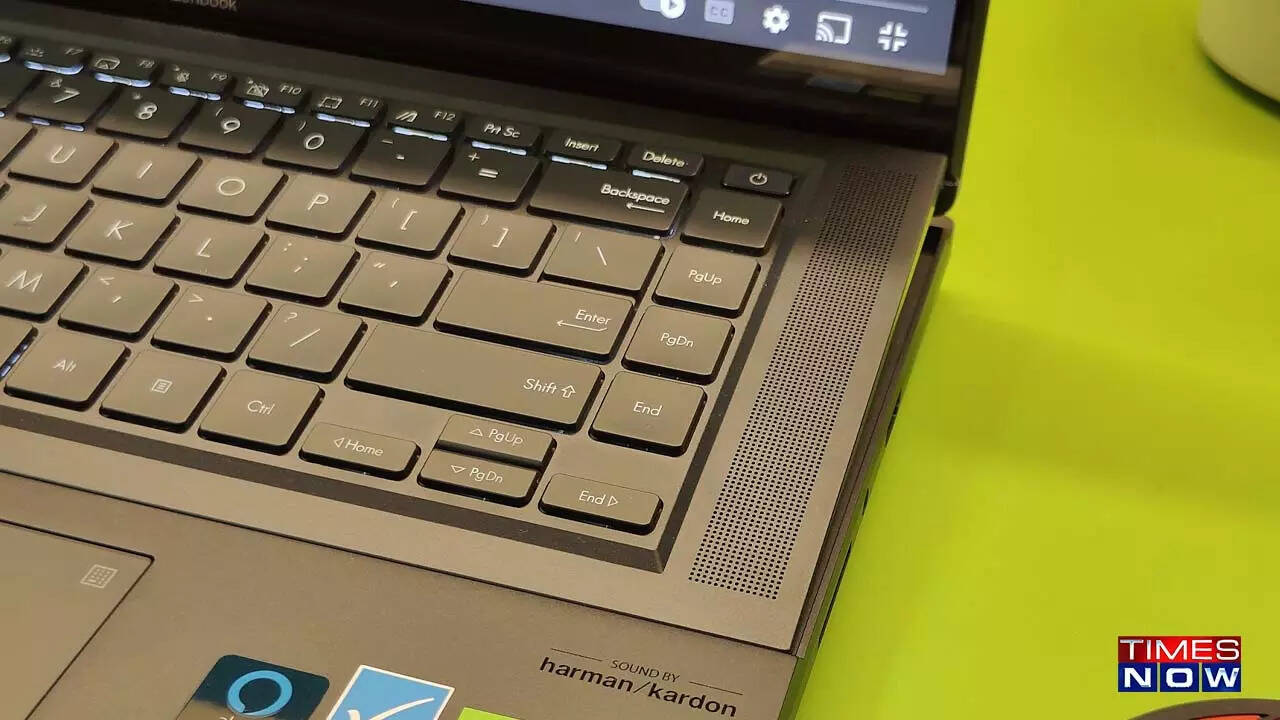 Other Features
The UX7602's 6-speaker system is by far the best laptop speaker we've ever tested, laptop sound output is loud and clear with good stereo separation. This device's target audience will likely be using it with headphones, but ASUS didn't skimp on the audio output here. Unlike a full gaming laptop, the UX7602 also has a proper webcam, it's a 1080p unit offering good image quality. The IR webcam also supports Windows Hello, and then there's the fingerprint scanner built into the power button which worked very reliably.
Battery
The UX7602 comes with a 96Wh capacity battery and this large battery can keep the device running for quite some time under normal load. We tried editing a 30 minute 1080p video straight from footage transfer to final rendering and compression while using UX7602 on battery power and UX7602 could easily handle it with juicy 40% still at the end.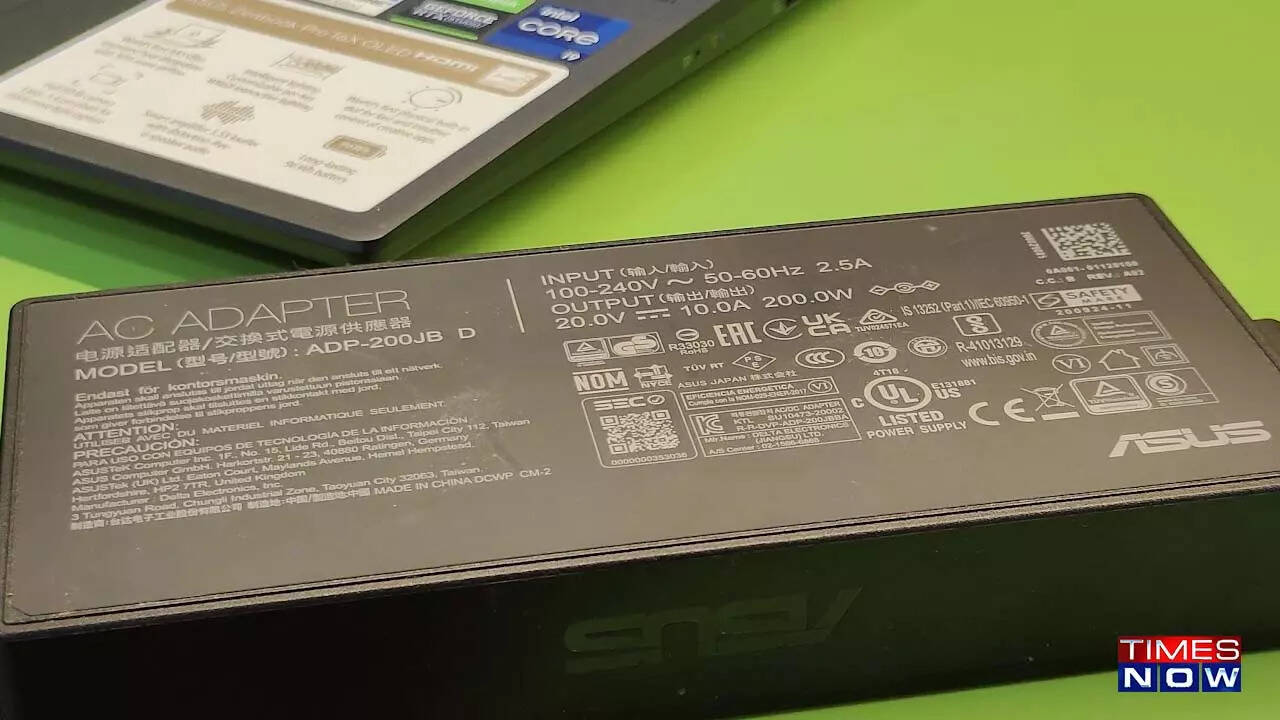 Verdict
The ASUS Zenbook Pro 16X OLED (UX7602) isn't for everyone, it's not just another high-powered laptop, it's more like a tool, designed for professionals who value time, performance and portability. It's a well-rounded machine that would fit right into a creative professional's arsenal. Priced at INR 2,49,990, the UX7602 is now available for purchase directly from ASUS India.