A series of handmade 'cell' photos visualizes research to cure cancer
Photographer and digital artist Ruben Alvarez shot a series of handcrafted cells to represent the process of blood cell formation, drawing inspiration from his battle with salivary gland tumors and facial paralysis.
Personal projects for creative freedom
Based in Spain, Álvarez specializes in advertising campaigns. He has been commissioned by tech giants like Adobe and Microsoft and has worked on campaigns for Porsche, Bugatti and other international brands.
Although he imbues his commercial work with his personality and creativity, it is his personal projects that give him the freedom to prepare and capture anything he can imagine. One of these projects isHematopoiesis."
Hematopoiesis is a deeply personal work born out of Álvarez's fight for life. He underwent several surgeries on his head due to the continued appearance of pleomorphic adenomas – the most common type of salivary gland tumour. During his search for possible cures, he discovered the process of hematopoiesis.
"[It] is the process of forming the components of blood cells and is used as the basis in the search for a cure for cancer," says Álvarez PetaPixel. "It was not a solution to my problem, but it inspired me to create my own hematopoiesis process, mixing my ultraviolet project where I turn the most unimaginable objects into art, with a very important part of my own story."
"Some of the shapes created by magnetic fields are very similar to the way some cells look through a microscope, but in such a large series I decided to give myself the freedom to create a lot of the cells just by myself. letting the shapes and colors that I liked the most guide me," he adds.
For the cells, Álvarez used a mixture of ultraviolet paint, liquid thickener, ferrofluid and magnets of different shapes and sizes. Following numerous tests and experiments, he found a way to obtain a variation of colors, textures and silhouettes. All of this allowed him to create such a large collection of photos without them becoming repetitive.
The project consists of several parts, photos of cells being only one of them. One of the following series is to create images with the mask that doctors used during Álvarez's radiotherapy treatment. He painted and photographed it to create a photo series, while the other parts of the project were directly related to the process of hematopoiesis and his personal story.
Photography that inspires hope for the future
Through this series of photos, Álvarez hopes to raise awareness about the process of hematopoiesis and how it can help others with conditions similar to his. He also wants to publicize the process itself, because "it's something that happens in our bodies thousands of times a day, and the more people know about it, the more people can collaborate with researchers and hopefully the, this lead to finding a cure for this very complicated disease a little earlier.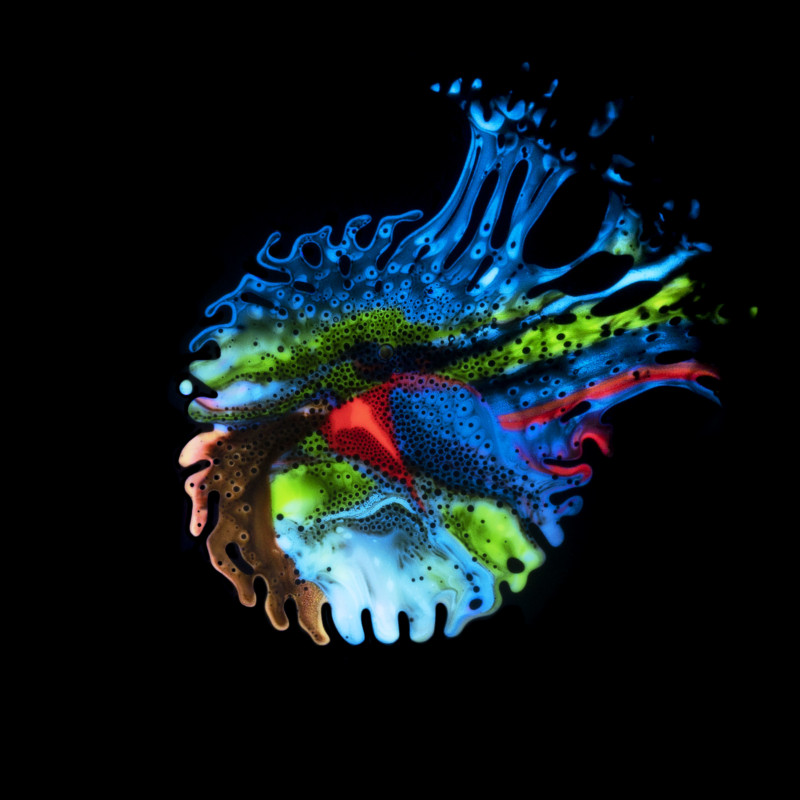 So far, Álvarez's health journey has been difficult. After a few surgeries to remove bumps on the left side of his head, he was at risk of facial paralysis. Even though the last operation went well according to the doctors, Álvarez soon realized they were wrong – his facial nerve was completely severed without his knowledge until he ordered further tests, which showed that he had additional bumps in his head.
He underwent a complex 14-hour surgery in one of only two specialized facial paralysis units in Spain. After that, he had to start a treatment of 27 radiation therapy sessions which all left their marks on his body and mind.
"However, all of this inspired me to create this project, it inspired me to create my own process of hematopoiesis, the process of creating blood cells and therefore life," he explains. "Each of the images represents a new opportunity."
"My fight continues, so this project will not have a closed end yet, until the moment when I can end this chapter of my life", continues Álvarez. "For this reason, I will donate 10% of profits from primary sales to CrisCanceran independent, non-profit organization entirely dedicated to facilitating and developing research to overcome cancer as a serious health problem.
Additionally, every photo of Álvarez is royalty-free for non-commercial use in magazines, medical journals, books, publications, and other media related to cancer and rare disease research and treatment.
More works by Álvarez can be found on his website and instagram.
---
Picture credits: Photos by Rubén Álvarez.